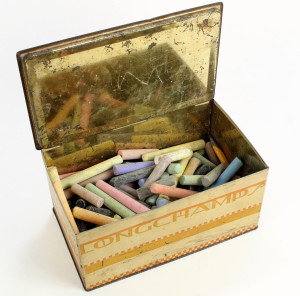 Bid on this item by clicking here.
Art Deco design was in it's hay day when this tin was produced. Made by Canco for Longchamps restaurant in New York.
Here's a little history on Longchamps:
Longchamps was a chain of highly popular, upper scale restaurants with nine locations around the city, mainly situated around Madison and Fifth Avenues (one restaurant was located in the Empire State Building and another in the Chanin Building). The avant-garde design and lettering is very much like the work of Josef Hoffmann and the Wiener Werkstatte.
The restaurants were designed by Winold Reiss (1886-1953) who was born and studied art in Germany and came to the United States in 1913. He was a very successful painter, graphic designer and interior designer.
Reiss designed the fasade of the 1939 New York World's Fair Theater and Concert Building. He also designed all of the Longchamps restaurants in New York. Longchamps restaurants were elegant smart and very Art Deco. They boasted plenty of mirrors and murals. His graphic type is identifiable by its slanting, "falling" S. This tin is his design.
For more information or to bid on this tin for your collection click here.