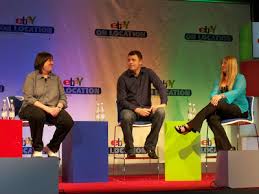 Cindy Shebley is a eBay Certified Business Consultant, Education Specialist and author who teaches throughout the Northwest.
Cindy's eBay career started in the late 1990's as a way to liquidate inventory from her "bricks and mortar" store. Today Cindy is an eBay PowerSeller who sells photography, video equipment and supplies for eBay sellers
As an eBay Certified Business Consultant, Cindy helps clients grow their businesses and teaches them the marketing techniques needed to stay competitive in today's marketplace.
An author of several books on eBay including the recenlty released "EBay Marketing Bible" "Easy Auction Photography", "How To Squidoo", and "Five Steps To Success: Growing your Online Business and Increasing Your Profits"
Testimonials
"I started listing Airsoft Guns and Sales are bigger than I have ever seen!!! This really took off because of you talking to be about bundling product. I have offered Airsoft for over 14 months now with maybe a sale every 8 weeks. I am no longer dropshipping these and now having to order in 250 guns at a time. This is all thanks to you! I am so close to being able to give up my day job it isn't funny…"
   Terry ~ zionnovel
"Thanks for all the good tips you have given me to help my business
grow. I really appreciate it and have put them all to good use
especially the one on Photography I went out and bought a tripod
right away, On e-Bay of course"
Anita Olvera
Annies watches and things
"Hi Cindy,
I am so glad I ran across you. You are teaching me more with your free little tips here, than anyone else that I have paid big bucks has ever taught me. Some of the supposedly eBay experts just make you think they have something that you can't live without, and that will teach you everything you need to know about selling on eBay, but when you get it -what a disappointment. More often than not, it is an overview of things you can get right off eBay in their help area, and then they use most of their space trying to sell you something else that belongs to them, or one of their Guru buddies.
When you say you are going to teach me something, you do. Step by step, and that is the way I need it taught to me. You are not only talking about how to do it, you are at the same time showing screen shots of how to do it.
You are great and I just wanted you to know how much I appreciate your help."
Joyce
eBay Store: http://treasuresbyjoymall.com
I want to take the time out of our busy weekend and thank you!  You have done such a great job teaching us the ins and outs of eBay selling.
I am currently enrolled in The Art Institute of Pittburgh Online program for Advertising (Marketing emphasis).  🙂  You have supplied me with tools I can come to the class with in a lot of my Web Marketing courses.  What you are teaching is definately on par with my program.  Thank you for your dedication and hardwork (I know it is).
Sincerely,
Amber Dale
GROWaLOT.com
Testimonals from students can be found here